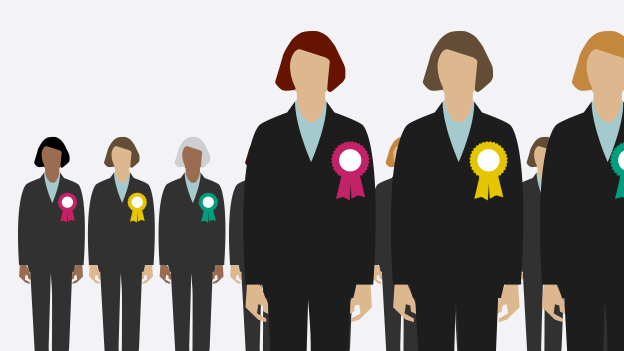 There are 10 more female MPs as a result of Thursday's election, taking female representation in the Commons to a new high.
There are now 207 women in the Commons, up from 197 before the snap poll.
Overall 32% of MPs are women but there are significant variations between parties. For Labour the figure is 45%, and 21% for the Conservatives.
With just one seat left to declare, here is the data for each party and for the Commons as a whole:
Your browser does not support this content, please upgrade!
Number of female MPs, before and after election
All parties
Conservatives
Labour
SNP
Liberal Democrats
As for the gender balance of the smaller parties at Westminster, the Greens' only MP is a woman, there is one woman among Plaid Cymru's four MPs, two women among Sinn Fein's seven MPs, and one MP among the DUP's block of 10 MPs.
Among Labour's new intake was Preet Gill, the UK's first female Sikh MP.
Ms Gill secured 24,124 votes to hold the seat in Birmingham Edgbaston for Labour with a majority of 6,917.
Sorry, your browser cannot display this content.
Find your result
Enter a postcode or seat name