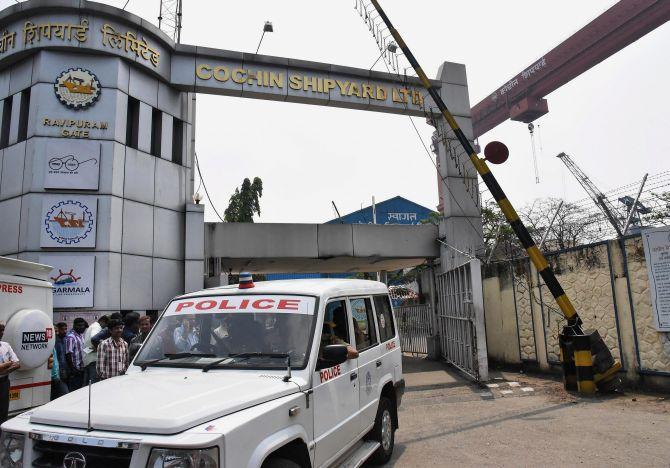 IMAGE: A police van outside Cochin Shipyard, where a blast occurred in an ONGC drillship that was under maintenance. Photographs: PTI Photo
Five people were killed and three injured in a fire following an explosion on an under repair Oil and Natural Gas Corporation drillship at the Cochin Shipyard premises on Tuesday, a shipyard official said.
Those killed in the accident are believed to be contract workers, he said.
The injured have been admitted to a private hospital in Kochi, he said, adding that the condition of one of them, who suffered 40 per cent burns, is stated to be critical.
State-owned ONGC said the blast was reported in its drillship Sagar Bhushan at 0915 hrs (9.15 am) at Cochin Shipyard (CSL) where it has been dry docking since December 7, 2017.
No ONGC employee was on the drillship when the accident occurred.
'The drillship was undergoing mandatory Special Survey (Hull & Machinery) repairs as per class requirement,' the company said in a statement.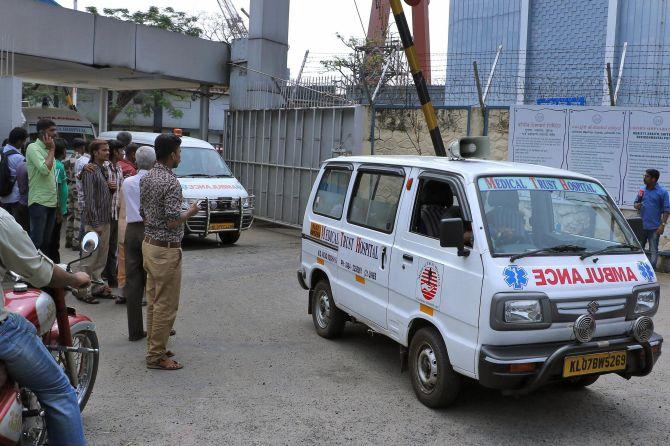 IMAGE: Ambulances outside Cochin Shipyard.
'The cause of the incident is being ascertained.'
The CSL spokesperson earlier said 11 people trapped inside the ship were evacuated and rushed to city hospitals.
City Police Commissioner M P Dinesh visited the accident site and said those trapped on the ship were evacuated and the situation was under control now.
The blast reportedly occurred in a water tank on the front side of the ship docked in the yard for repair.
Police said smoke inhalation is suspected to be the reason for the casualties.
Shipping Minister Nitin Gadkari expressed shock over the loss of lives in blast.
'Shocked by unfortunate blast at Cochin Shipyard… My heartfelt condolences to bereaved families. I have spoken to MD, Cochin Shipyard n asked him to provide all necessary medical support to victims n to initiate immed inquiry with help of concerned agencies (sic),' he tweeted.
Kerala Chief Minister Pinarayi Vijayan condoled the death of the five persons in the blast.
In a Facebook post, he said directions have been issued to conduct rescue operations and provide urgent medical care to those injured in the blast.
Source From: http://www.rediff.com/rss/inrss.xml