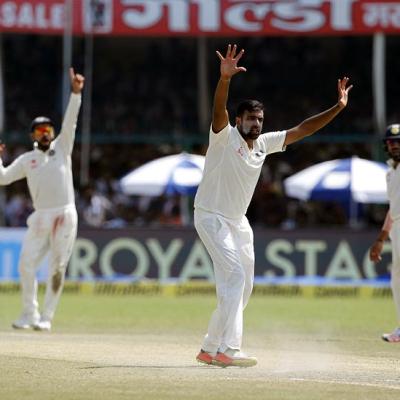 15:20  Markram out doing Elgar:  
South Africa 62-0 (24 ovs) vs India | 
Scorecard
Ashwin continues.
Turn and bounce for the bowler and Elgar gets no edge. India fielders go up, umpire says not out. India lose their first review. 
India now putting pressure on SA courtesy the Chennai offie.
Elgar gets a single to end the over.
Bumrah continues. 
He overpitches on the pads and Markram just picks him and flicks him on the leg side for a boundary.
Five runs come off that over.
Ashwin continues. 
He gets nice turn and bounce and puts Elgar under some pressure, making the batsman play.
No runs from the over.
Bumrah brought back into the attack.
Elgar plays a pull, mistimed and he is lucky as Vijay misreads that and a four and a reprieve for Elgar.
Markram plays a beautiful four through mid-wicket to bring up South Africa's 50.
Another four as Bumrah bowls short and he times it exquisitely through covers for a boundary. 
Bumrah struggling in the opening over of his 2nd spell.
Ashwin continues to Markram as the Indian fielders are getting very vocal here.
He starts off with a maiden. 
15:00
India still looking for the wicket:
South Africa 42-0 (19 ovs) vs India | 
Scorecard
For all their accuracy, India are yet to get a breakthrough as Elgar and Markram continue to frustrate the visitors. 
Pandya continues. 
Elgar wow! Gets the middle of the bat and plays it through the square on the off side for a boundary.
Five from the over.
Ishant continues around the wicket. And that is a third maiden in a row.
Pandya continues and that is another good over and another maiden.
Ishant continues and gives away just one run.
Pandya continues after drinks. The ball hits Elgar on the pads but it's nowhere near close as the umpire is  uninterested in the LBW appeal.
He follows that with a good line. 
The ball then gets a good bounce and gets Elgar does well to keep off the ball.
Another maiden over for Pandya.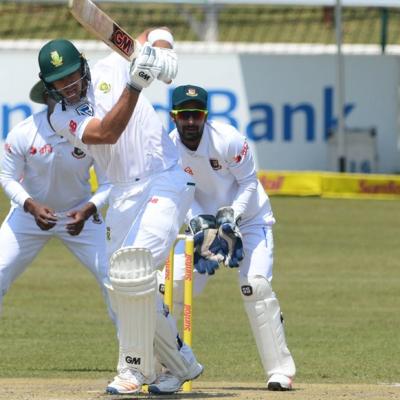 14:36  India bowlers keep up presssure:  
South Africa 36-0 (14 ovs) vs India | Scorecard
Drinks called after an hour of play and both teams can be lauded for putting up a solid show.
India's bowlers have teased the batsmen with that teasing length and line,w while the Proteas batsmen have done well to play each ball to merit and play sensibly.
Ishant continues and Elgar nearly plays on. 
The bowler gets a nice movement across and the batsman is happy to let it go.
A short ball and Elgar plays it to cover point for a single. 
Pandya given the ball now and replaces Shamo at the other end.
Wow! The ball changes direction after going past the batsman. 
Pandya starts with a maiden.
Ishant continues. 
He gives just one run as a beautiful contest between bat and ball brews at Centurion.
Shami continues, it's a half-volley and Markram plays it through mid-off for a four.
That is another four! Markram leans forward and plays it past extra-cover for a four.
Markram then plays the next ball off his pads for three down to deep square leg.
13 comes off the over. 
14:15
India bowlers challenge batsmen:
South Africa 21-0 (10 ovs) vs India | Scorecard
Iahant continues and gets some bounce. Elgar gets hit on the gloves. 
Nice ball! Full ball and it goes across, past the batsman's off stump.
Another full ball, Elgar plays it off his pads for a couple to leg side.
Short ball and that just doesn't take off and hits his gloves. He is lucky to survive as the ball misses the off stump.
Bumrah  continues and 2 runs to the batsman at deep backward point. 
Three runs off the over.
Ishant Sharma is first change.
Perfect line to Elgar. Makes the batsman play and the ball away from the left-hander. What a ball!
Elgar then gets a single as Sharma continues to bowl a teasing line.
Just one run from that over.
Bumrah continues. Too straight and Elgar plays it off his pads for a single. 
Bumrah bowls superbly to finish with just a single off the over.
13:56
India bowlers accurate:
South Africa 14-0 (6 ovs) vs India | Scorecard
The South Africa batsmen are happy to just defend or leave the good balls as the bowlers are spot on.
Shami continues and bowls in that off-side.
Short and wide and Markram cuts the ball past point for a couple.
Six runs off the over.
Bumrah continues. 
Elgar challenged. And that is another maiden.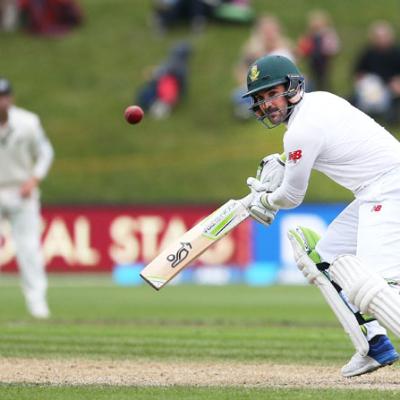 13:46  Bumrah, Shami keep batsmen on a leash:  
South Africa 12-0 (4 ovs) vs India | Scorecard
Shami continues.
Markram gets on top of the ball and plays it in behind point for a four.
Markram then plays the ball behind square for another boundary. 
Bumrah continues, Elgar gets off the mark off the inside edge, the ball goes to the leg side and the first runs come up for the Proteas.
Bumrah follows it up with a superb ball to Markram.
Parthiv does well to stop the ball from running to the boundary on the leg side.
Markram gets off the mark with a shot down to mid-wicket.
The ball comes nicely to Elgar's pads and the batsman plays it down to mid-wicket for a couple. 
Bumrah ends the over with a dot.
Mohammed Shami bowling at the other end. 
He starts with the ball in that corridor. Markram lets them go.
Shami has got the ball to move around the off side. Nice shape but low bounce challenging the batsmen. 
Markram leaves another one and that is the end of the second and South Africa are yet to get off the mark.
Bumrah begins well to bowl a maiden.
Jasprit Bumrah to open the bowling for India. 
Dean Elgar and Aiden Markram are opening the batting for South Africa.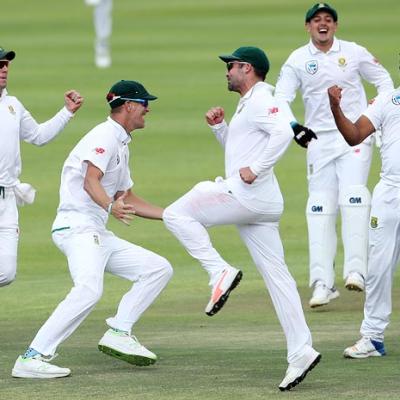 13:12  Faf du Plessis elects to bat in Centurion:  
South Africa have won the toss and elected to bat first against India in the 2nd Test in Centurion on Saturday. 
India captain Virat Kohli says at the toss that he would have batted first too. 
"If we bowl first like in the first game. We are going to look to exploit the conditions," he added. 
India have made three changes to the team. 
'Keeper Wriddhiman Saha, pacer Bhuvneshwar Kumar and opener Shikhar Dhawan have made way for Parthiv Patel, KL Rahul and Ishant Sharma.
Source From: http://www.rediff.com/rss/inrss.xml